Domestic Partners
The domestic network of the Pardis technology park is divided into five categories:



1- FAB-LAB
The digital manufacturing workshop, is a non-profit and non-governmental center, which provides manufacturing services to all people who are interested in designing and production. It aims to make instruments, practical knowledge and financial supports accessible for innovative production through innovative technology and digital instruments. The facilities are available for all people according to their personal situation. All designers, artists, academics, students and companies deal with manufacturing, are targets of Fab-Lab. The Fab-Lab is active in four fields namely:
consultation
education
production
manufacturing
and at the end commercialization of the production.
The Fab-Lab was established in 2014 as a knowledge-based firm online and after two years, it established its office at the Pardis Technology Park.
Phone:
+9821 762512521
2 - Fan AmoozPark (Science Center)
In order to stimulate and make students interested in science and technology and to attract audience, it is needed to demonstrate science and technology phenomena in an appealing and perceivable shape. The centers required to implement this subject are called "Science and Technology Centers" and have been launched in developed countries for a century. These centers take place in the middle of a range comprising of labs on one side and amusement parks on the other and exploit the benefits of both.
The installed equipment in the center is meanto show scientific phenomena and technology cleavage in an attractive and beautiful attribute. It raises the motivation of learning knowledge in scientists and public and is a good incentive for education. It is a suitable complementary for classistraining at schools and an instrument for extending culture in society.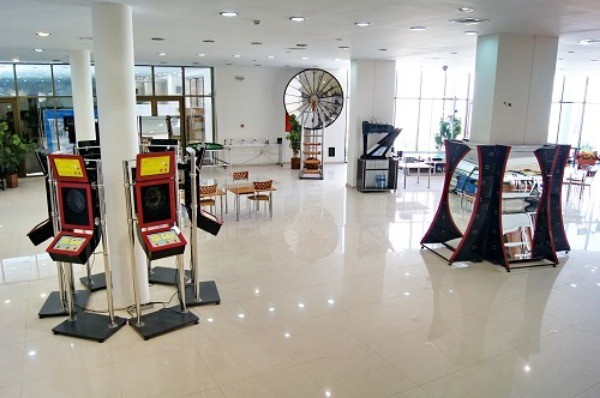 Fan Amooz Park follows three goals:
Creating cheerful, hospitable and amusing atmosphere for the whole family
Training science and technology
Cultural impact and feeling of self-sufficiency and self-belief through Iran-made equipment
Fan Amooz Park visitors are:
Students and scholars
Public
Students and scholars experience the theoretical subjects that they have learned in classes practically and indeed it is a complementary for classic education at schools and related centers.
Public arethe ones that may have graduated for a long time and review scientific lesson by playing with educational equipment in the center.
These services are provided by Fan AmoozCompany, one of the members of Pardis Technology Park (PTP), which is the unique producer of scientific-entertaining equipment in I. R. Iran and has established eleven centers throughout the country so far.
Phone Num : (+9821( 76250640 - 3
Fax Num: (+9821( 76250644
WebSite: http://fanamouz.ir/